Two lines of GPON/EPON
repeater specifications

GEPON repeater is my company independent research and development for EPON optical broadband access system, Light signal amplification of optical communication equipment. It can effectively save the OLT amount, extend the communication distance, and can greatly expand the light branch number, save fiber dosage. My company's PON OEO repeater is widely used in light of EPON long-distance transmission. Its advantage is small, low cost, security, easy to install.




1、Function and Characteristics:

■Varieties of products are more: can choose type of the equipment according to clients' business requirements;
■Can relay transmission distance: more than 40 km to 80 km;
■External application of passive devices can support 1550 nm and 1620 nm wavelength coexist;
■Excellent heat dissipation design and temperature adaptability, can work for a long time in various harsh environment condition;
■Miniaturization design, installation is convenient;
■can provide applied to the industrial environment, such as smart grid industrial-grade card rail type GEPON relay out equipment;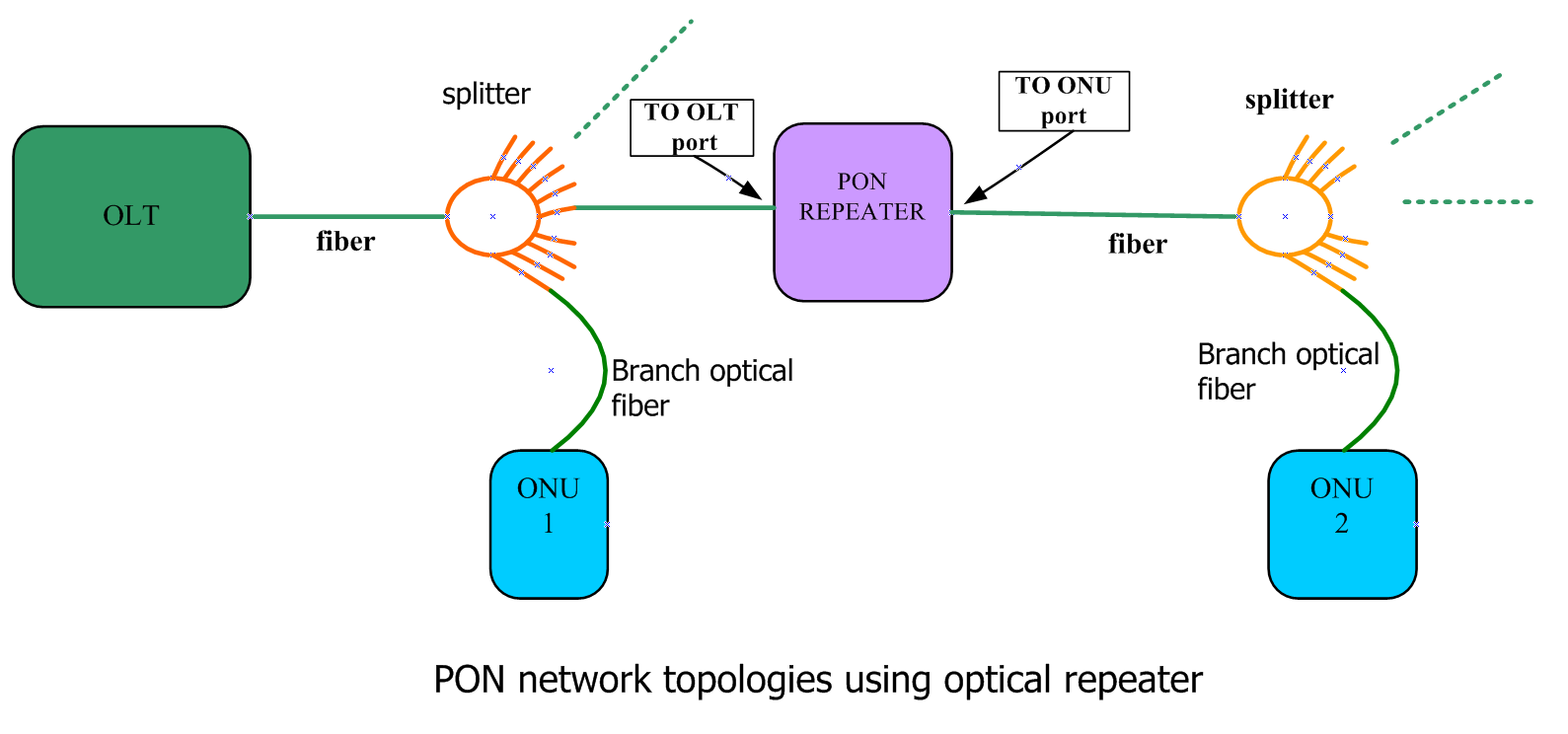 2、the technical parameters:

2.1 transmission performance:

1、Downside: support 1.25 G/s continuous signal to send and receive.
2、Upward: support 1.25 G/s burst signal to send and receive
3、Support 60 km 1:6 4 ODN network expansion

2.2 interface is introduced
This equipment is a two way EPON relay out equipment, each interface specification is as follows:
1、 ETHERNET network, the device support WEB network management way, compatible with various browsers, use very convenient;
2、The first line EPON connection method: The direction of the ONU optical fiber connected to the 'TO ONU_A' port, The direction of the OLT optical fiber connected to the 'TO OLT_A' port, the repeater realization of downstream and upstream directions of light signal amplification;
3、For the second line EPON connection way is : The direction of the ONU optical fiber connected to the 'TO ONU_B' port, The direction of the OLT optical fiber connected to the 'TO OLT_B' port, the repeater realization of downstream and upstream directions of light signal amplification;
4、the DEFAULT button is to restore factory Settings button, click the DEFAULT button, the IP address is set to factory DEFAULT address: 192.168.1.102;

2.3 The panel light:
1、UP_A: The first line signal lamp, upward direction indicator lights, lights flashing, said not yet received the upward direction (from the ONU is sent to the OLT) signal, The light has been on said reception normal upward direction;
2、DOWN_A: The first line signal lamp ,downward direction indicator lights, lights flashing, said have not received the downside (from OLT to ONU) signal, The light has been on said reception normal downward direction;
3、UP_B: The second line signal lamp, upward direction indicator lights, lights flashing, said not yet received the upward direction (from the ONU is sent to the OLT) signal, The light has been on said reception normal upward direction;
4、DOWN_B: The second line signal lamp, downward direction indicator lights, lights flashing, said have not received the downside (from OLT to ONU) signal, The light has been on said reception normal downward direction;

5、ACT: the light is said received Ethernet network interface signal;
6、LINK: the light is said of the Ethernet network interface signal connection is normal;
7、WEB network IP address: can be set by the user, the default factory IP address is: 192.168.1.102

2.4 the physical properties:
1、Optical interface physical properties:
■TO OLT port receiving sensitivity ≦ - 28 DBM
■TO OLT port emission light power ≧ + 0.5 dBm
■TO ONU port emission light power ≧ + 1 DBM
■TO ONU port receiving sensitivity ≦ - 28 DBM
■TO ONU port saturated light power ≦ 8 DBM
■when the light power of ONU direction is too strong, can use the optical splitter reduce light power, do not use optical attenuator;

2、SFP optical interface module;
3、Used in EPON/GPON system, won't produce any additional error, does not affect the transfer and performance of the system;

2.5 compatibility:
1) automatic compatibility EPON/GPON system;
2) compatible with different manufacturer EPON/GPON OLT and ONU equipment;
3) can be achieved 1550 - nm analog video and 1620 nm wavelength OTDR coexist;

2.6 environmental adaptation:
■Products operating environment: indoor, home or office;
■Product main environmental adaptability parameters are as follows:
■Working environment temperature: - 20 ℃ ~ 70 ℃;
■Storage temperature: - 40 ℃ ~ + 70 ℃.
■Humidity: 20% ~ 90% (without condensate);
■48 v DC power supply: optional;
■220 v AC optional;
■Appearance size: 25.3 cm x 13.4 cm x 4.1 cm